Xu Kunlin, governor of Jiangsu province, demanded further efforts for innovation in a bid to fuel high quality urban development that can be duplicated and promoted across the country and lead the province's urbanization drive at the forefront of the country. He made the remarks when going on an inspection tour Wednesday in Liyang, a county-level city in the southwest of the province.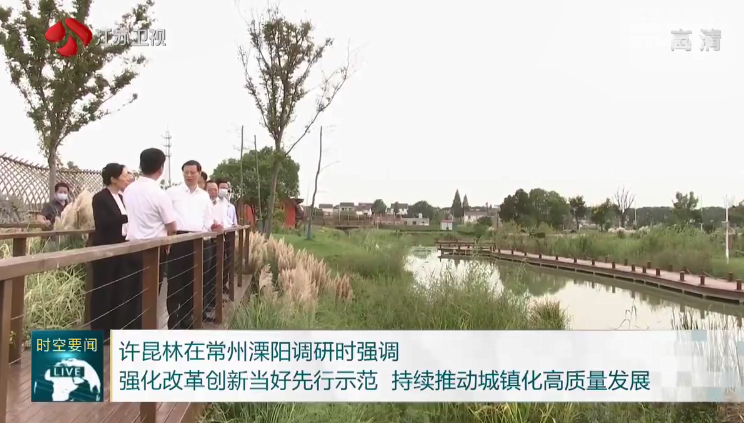 Xu Kunlin visited Jiangxia Village in Zhuluo Town and Qingfeng Village in Nandu Town to learn about industrial development, integration of culture and tourism, environmental protection, and people's income growth.
He asked the local government to base itself on natural endowments, develop green and low-carbon industries of characteristic ecological agriculture and ecological cultural tourism, gather more high-end talents and innovative resources, and greatly improve the ability to realize the value of ecological products.
The governor urged local governments to improve the level of integration of primary, secondary and tertiary industries, strengthen the new rural collective economy, allow farmers to achieve sustained and stable income growth at their doorstep, strengthen grass-roots system innovation, and continuously stimulate the vitality of rural development.
Xu Kunlin visited the Liyang High-tech Zone Planning Exhibition Hall to learn about the construction and industrial development of the park.
He asked the local government to base itself on the industrial foundation, improve the innovation ecology, build a platform for the coordinated development of urban and rural industries, establish and improve the market-oriented service mechanism for the transformation of scientific and technological achievements, and continuously enhance the industrial support and employment creativity.
When visiting Jiangsu Ankor Intelligent Power Transmission Engineering Technology Co., Ltd., Xu Kunlin encouraged the company to strengthen its innovation drive, increase investment in research and development, and create a strong artery for power transmission for the city with safer and more reliable high-tech products to ensure the safe operation of power and energy.
When visiting the charging station of the Olympic Sports Center, Xu Kunlin hoped that the company will speed up the construction of distributed new energy and new power systems, so as to better meet the urgent needs of the new power system for flexible power and energy interactive support in the construction of new urbanization.
Xu Kunlin also inspected the Liyang Municipal Government Administrative Service Center and learned about improving public service capabilities, requiring more data sharing and data support, accelerating the digitalization of urban governance, making urban management more refined and intelligent, and making people more convenient and efficient.