Provincial Party Secretary Wu Zhenglong and Governor Xu Kunlin met with Liu Liehong, chairman of China Unicom Group, in Nanjing on Tuesday.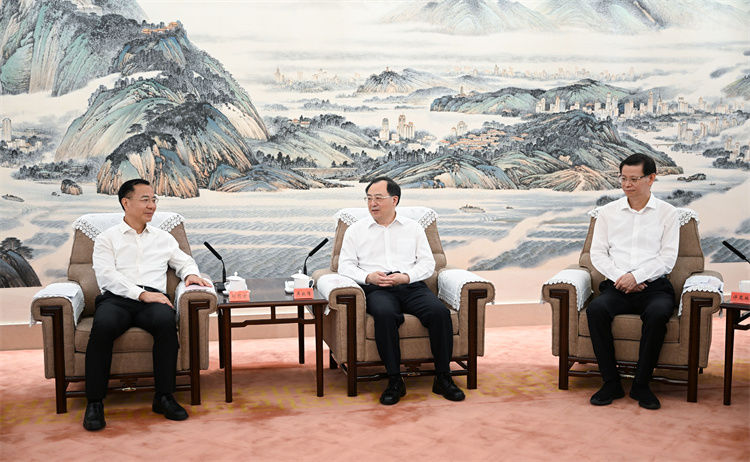 On behalf of the provincial party committee and the provincial government, Wu Zhenglong and Xu Kunlin extended their welcome to Liu Liehong's visit to Jiangsu, and expressed their gratitude to China Unicom for its long-term contribution to the development of Jiangsu.
Wu Zhenglong pointed out that the two sides have achieved fruitful cooperation in recent years as China Unicom has advanced concepts, leading technology and strong strength and Jiangsu has economic, scientific and educational strength, and is also a major powerhouse of digital economy.
He hoped that China Unicom could play the role of the national team and further strengthen all-round cooperation with Jiangsu in various fields such as digital information infrastructure construction, technological self-reliance and self-improvement, industrial digitalization empowerment and intelligent transformation, cultivation of digital industrial clusters, and digital governance.
Jiangsu will continue to create a market-oriented, legalized, and internationalized first-class business environment, provide better service guarantees for China Unicom's development and growth in Jiangsu, jointly forge ahead in a new journey and build a new era, and take practical actions to welcome the 20th National Congress of the Communist Party of China 's convening.
Liu Liehong thanked Jiangsu Province for its long-term strong support for China Unicom's development. He said that Jiangsu has a solid manufacturing foundation, rich scientific and educational innovation resources, and numerous digital application scenarios. China Unicom is building a national team for digital information infrastructure operation and service, a major force in building a digital China's smart society in a network powerhouse, and a pioneer in digital technology integration and innovation.
We will invest in more major industrial projects and major innovation platform carriers in Jiangsu, smooth the information artery for the high-quality economic and social development of Jiangsu, and help Jiangsu to be at the forefront of modernization.