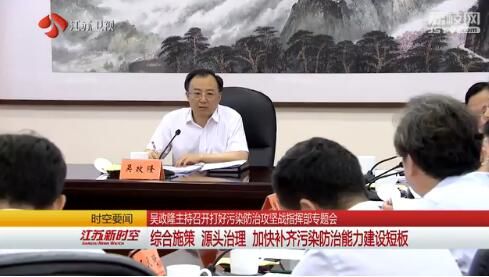 East China's Jiangsu province held a symposium Wednesday to reveal its action plan for battle against pollution. Governor Wu Zhenglong stressed that greater efforts need to be made to implement General Secretary's concept of ecological civilization, deepen the practice of new development concepts, work hard for systemic precision, strengthen the weakness in pollution prevention and control so as to resolutely step up the fight against pollution, promote the high quality development of the ecological environment and improve people's lives.
  The Governor was briefed by leading officials of the competent provincial departments on the province's disposal of urban and rural garbage, sewage, hazardous waste and the efforts for prevention and control of the agricultural and rural non-point source pollution and the discharge of pollutants by ships.
  Wu Zhenglong emphasized that it is an arduous task to build up pollution prevention and control capacity due to its long cycle and large investment.
  It is therefore necessary to adhere to systematic planning, treating both the symptoms and the root causes, highlighting the key points and continuing to tackle the problem, the governor said.
  He urged the province to sort out the status quo of urban and rural pollution prevention and control capabilities, get down to the facts, and focus on weak links such as inadequate and unbalanced capacities and facilities and unstable operation.
  Wu noted that it is necessary to adhere to the combination of goal orientation and problem orientation, clarify the work objectives and main directions of pollution disposal in cities, counties, townships and villages and adjust the measures to adapt to local conditions and measures to accelerate the urban sewage treatment facilities in accordance with the deployment requirements for pollution prevention and control.
  He demanded that full coverage, full collection, and full processing be implemented so as to continuously improve the hazardless and resource-based treatment of urban and rural garbage, carry out rural human settlements environmental remediation actions, adjust the agricultural input structures and focus on solving outstanding ecological problems.
  The Governor called for comprehensive measures to be taken to transform the industrial structure, develop energy conservation and environmental protection industries, clean production industries, and clean energy industries, optimize the layout of land and space development for the comprehensive promotion of green development.
  China has released policy documents outlining specific pollution control measures and anti-pollution objectives to be carried out across 2018-2020. The action plan was revealed in June by the Central Committee of the Communist Party of China and the State Council, China's cabinet.
  According to the guideline, cities with low air quality standards should see their density of PM 2.5, referring to fine inhalable particles with diameters that are around 2.5 micrometers and smaller, fall at least 18 percent from 2015 levels by 2020. Meanwhile, cities at prefecture level and above should see the number of so-called 'good-air days' reach over 80 percent annually.
  Additionally, China aims to see over 70 percent of its surface water to be drinkable by 2020, and the share of polluted surface water should be controlled to within five percent.
  Furthermore, around 70 percent of the country's offshore area water should be of good quality.
  The documents also outline targets for soil pollution and contamination of farmland.
  The guideline reiterates that by 2035, the quality of the country's ecological environment will be improved fundamentally and by the middle of the century, the goal of building a Beautiful China, with a healthy environment and low pollution, will be attained.
  It says that China will continue to strengthen its environmental protection laws, and ecological improvement will become an important criterion in the evaluation of local officials' work.
  (Source:ourjiangsu.com)