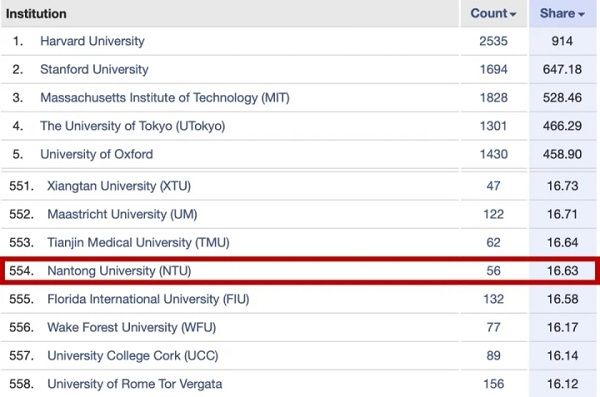 A table compiled by Nature Index shows Nantong University's ranking among global higher education institutions in 2020. [Photo/ntfabu.com]
Nantong University was ranked 544th among global higher education institutions and 116th in China in a recently updated list by Nature Index.
The university has moved up 471 places in the global ranking and 53 spots in the domestic ranking since November 2018.
The list was based on the number of published papers by higher education institutions and national research institutes in the most influential academic journals around the globe, such as Nature, Science, and Cell, from Dec 1, 2019 to Nov 30, 2020.
A total of 56 papers by NTU were counted this time, 39 more than that in December 2018. The "share" value increased 12.78 points to 16.63.

A chart shows Nantong University's global (red line) and domestic (blue line) rankings increasing since December 2018. [Photo/ntfabu.com]
In recent years, NTU has been working to comprehensively enhance its capacity in scientific and technological innovation, as well as social services. The university launched 202 national scientific research programs, won 23 provincial and ministry-level scientific and technological awards, as well as built four provincial and ministry-level scientific research platforms over the past two years.
Nature Index was first published by Nature Publishing Group in November 2014. Its database covers higher educational institutions and research institutes in more than 150 countries and regions.
The number of journals it counts increased from 68 to 82 in June 2018, and was divided into four categories, namely chemistry, earth and environmental sciences, life science, as well as physics.