A provincial government executive meeting was held on Monday to be briefed on the special programs to address special rectification of work safety, innovative development of medical education, and reform of the approval system for engineering construction projects. Wu Zhenglong, governor of Jiangsu, presided over the meeting.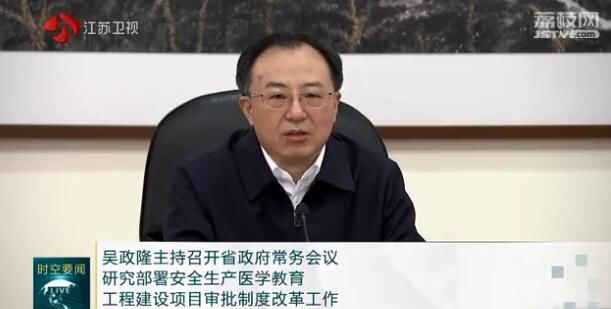 The meeting pointed out that the year 2021 marks the beginning of a new journey of building a modern socialist country in an all-round way under the 14th Five-Year Plan, and the 100th anniversary of the founding of the Communist Party of China. It is of great significance to do a good job in work safety this year.
All departments at all levels should thoroughly study and implement General Secretary Xi Jinping's Important Expositions on Production Safety. We should further improve our ideological understanding and strengthen our responsibility to carry out the people-centered development philosophy. We will take the implementation of the new concept of development and resolutely shoulder our principal responsibilities. We should keep high standards and high quality to carry out a three-year campaign to improve production safety, with practical action and practical results to achieve "two maintenance".
We should focus on problem orientation, constantly find problems and solve them, resolutely put an end to serious work safety accidents, and effectively improve the modernization of safety management system. We must work hard to constantly improve the working mechanism for implementation, and guard against formalism and bureaucracy to ensure that all arrangements are implemented and effective. Departments at all levels should further prevent and defuse all kinds of hidden risks, and create a safe and stable environment for the coming NPC and CPC.
We will conscientiously implement the decisions made by the Party Central Committee and the State Council. We must place medical education in the priority of the development of relevant education and health undertakings, and take the demand for services as the orientation, and build new medical science as the starting point. We should renew educational concepts, innovate institutional mechanisms, optimize training structure, strengthen cooperation between medical education and focus on cultivating all kinds of research-oriented and application-oriented talents, so as to provide strong talent support for promoting the construction of a healthy Jiangsu and ensuring the health of the people.
The meeting also pointed out that we should adhere to problem orientation, strengthen supervision and guidance, consolidate achievements, improve quality, gain new achievements, and meet the satisfaction of the people and meet the requirements of the market.