Jiangsu province has made every possible effort to ensure the provision of key medical supplies for the prevention and control of the novel coronavirus pneumonia outbreak by highlighting the role of its advantageous manufacturing industry so as to shoulder the responsibility in the fight against the COVID-19 epidemic.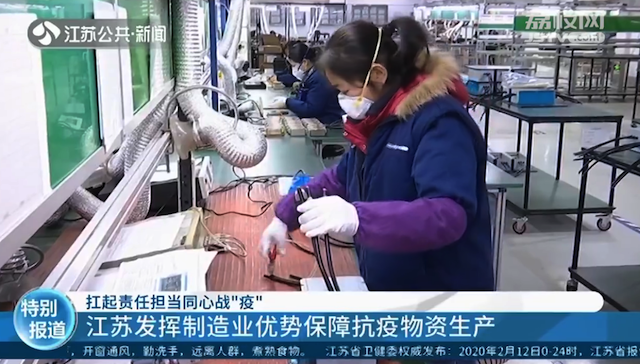 Following the outbreak of the novel coronavirus pneumonia, a shortage of medical supplies occurred. To help mitigate this shortage and to aid the coronavirus, several companies in China has tweaked production lines to produce medical supplies and materials for the production of medical supplies.
Enterprises in the upper stream and lower stream of the industrial chain have joined hands to enhance production capacity so as to boost the supply of protective materials for epidemic prevention and control.
Wave filter, one of the core components of medical imaging equipment, is a medical device that is urgently needed in Wuhan Huoshenshan Hospital.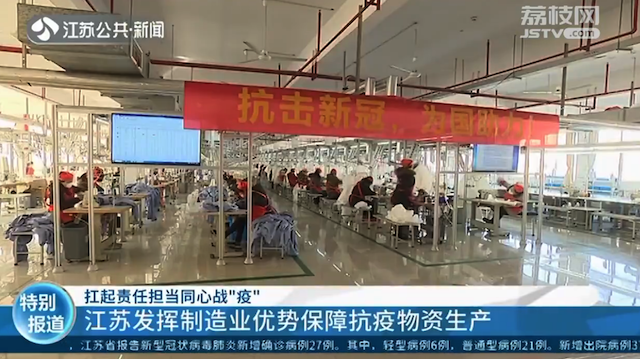 After receiving the order from Huoshenshan Hospital, Kunshan Tianchengda Electronics Co., Ltd. immediately applied for resumption of work, took preventive and control measures, maintained production at full capacity, completed the order in only 2 days, and sent the product to Wuhan.
Suzhou Aojian Medical Supplies Co., Ltd. and Wuxi Shenghuadun Protection Technology Co., Ltd. signed a cooperation agreement. Shenghuadun arranged for more than ten workers to install a medical protective clothing production line for Aojian in Suzhou.
Changzhou Xinxing Garment Co., Ltd. dealt with export clothing in the past. Since the outbreak of the epidemic, the company decided to temporarily switch to the production of medical supplies for epidemic prevention by investing nearly one million yuan. It took the company only one week to prepare raw materials and install a production line for mask production.
Jiangsu Huanyu Tiancheng Light Textile Technology Co., Ltd. has mobilized its entire work forces to produce masks and other medical supplies that are in urgent need in the epidemic prevention and control.
Data from the Provincial Department of Industry and Information Technology shows that all the medical mask and medical protective clothing manufacturing enterprises in Jiangsu have resumed production. On January 26, Jiangsu allocated 5,000 protective clothing and 30,000 boxes of disinfectant. As of February 10, Jiangsu has produced 7,875 pieces of medical protective clothing, 80,000 surgical masks, 607 tons of disinfection solution and 80 negative pressure ambulances.
(Source:ourjiangsu.com)