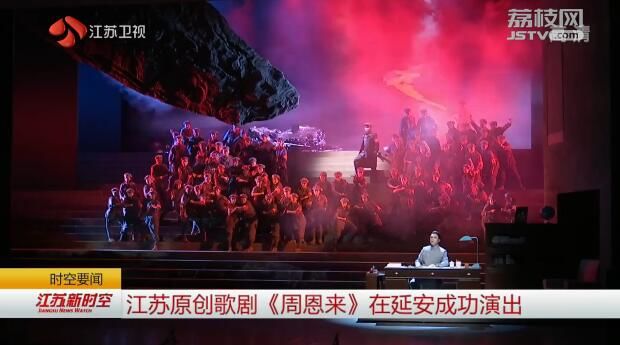 An original opera on the revolutionary life of Zhou Enlai was premiered Tuesday evening in Yan'an city, northwest China's Shaanxi province.
  The opera is sponsored by the publicity department of the CPC Jiangsu Provincial Committee and created by Jiangsu Provincial Performing Arts Group.
  The opera depicts the crucial moments in Zhou's life that turned crisis into opportunities such as the battle of Xiangjiang, the Zunyi Meeting and the Bandung Conference.
  Relying on opera as the global language of art, the opera has created the glorious image of Zhou Enlai as the outstanding model of the Chinese Communist Party, singing high praise of his outstanding merits and lofty demeanor in his pursuit of happiness for the Chinese people and the rejuvenation of the Chinese nation in eulogy of his glorious struggle throughout the lifetime.
  Yan'an is the revolutionary holy land of China from 1937 to 1945 when the CPC was based there in its fight against the Japanese invaders.
  Zhou Enlai is a leading figure in the Chinese Communist Party and used to be the premier and foreign minister of the People's Republic of China before his death in 1976.
  The opera is expected to meet the audience in Nanjing at the Jiangsu Grand Theatre on October 20th.
  (source:ourjiangsu.com)