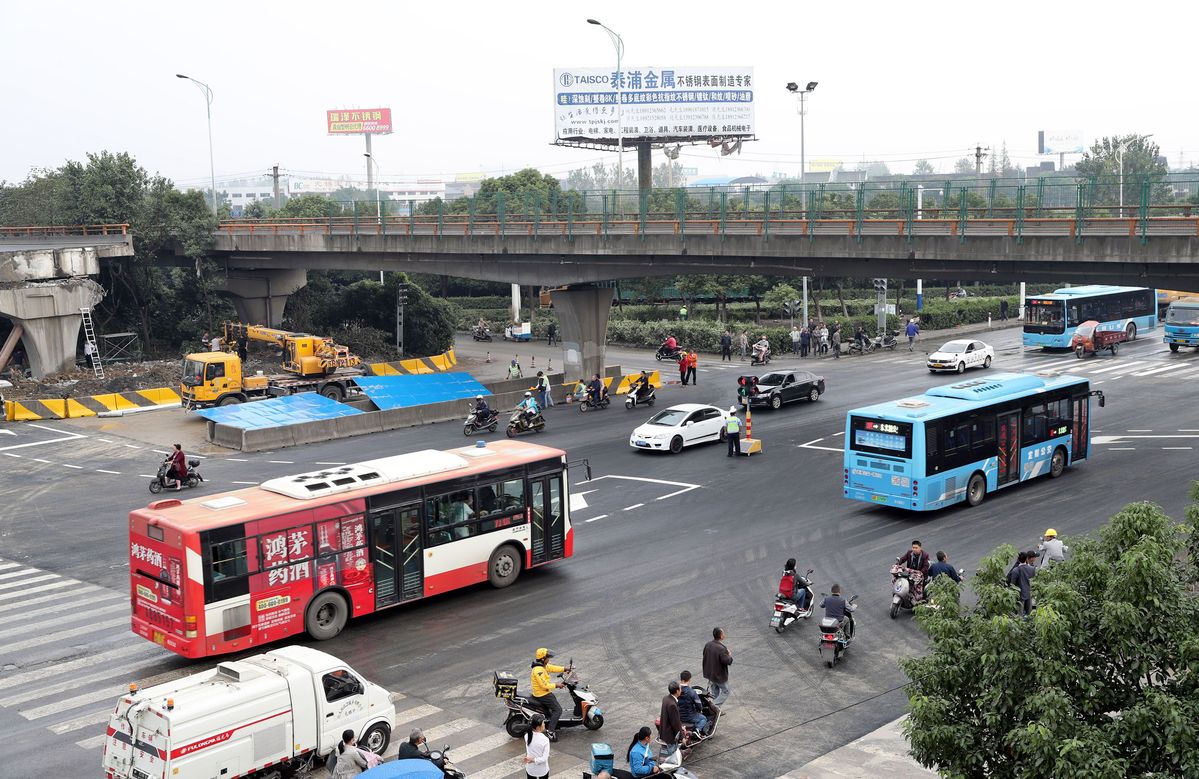 Traffic is back to normal under the collapsed highway overpass in Wuxi, Jiangsu province, after the debris was cleared on Saturday. [Photo by Huan Wei/For China Daily]
Wuxi, Jiangsu province, has ordered the strictest crackdown on overloaded vehicles and unsafe use of gas in public places in the city following an overpass collapse and a deadly gas explosion last week that shocked the whole country.
Huang Qin, mayor of Wuxi, said that the city will have "zero tolerance" for overloaded vehicles, and all large buses and vehicles transporting dangerous chemicals in or through the city will be checked.
"The two accidents fully exposed weaknesses and loopholes in the city's safety management work," he said. "We've learned a lesson and will make every effort to promote safety."
Insisting that safety development is the top priority, Huang urged all departments to scrutinize hazardous behavior, including overloading vehicles, drunken driving and motorist fatigue.
Moreover, a special effort will be launched soon to check all the city's restaurants to ensure safe use of gas. Other problems, such as fire hazards in tall buildings, large machinery in construction sites and facilities in amusement parks, will be investigated.
On Thursday, an overpass in Wuxi fell from its piers and tipped to one side, killing three people and injuring two. It flattened three cars underneath, and five cars on the overpass fell to the ground.
A preliminary investigation suggested the collapse was caused by overloaded trucks, local police said.
On Sunday, an explosion caused by a gas leak at a snack bar in the city's Ehu township claimed nine lives and injured 10.
Lou Qinjian, Party secretary of Jiangsu, and Wu Zhenglong, governor of the province, has ordered all of the province's 13 cities to implement similar strict inspections to ensure public safety.
On Saturday, the provincial public security department launched a 100-day special action to crack down on vehicles ignoring safety hazards. The department said that anyone breaking the law will be punished heavily or exposed in the media.
Huang Ming, Party chief of the Ministry of Emergency Management, has spurred all-out efforts to rescue those injured in the Wuxi gas explosion, and the ministry has sent a team to the city to investigate the accident.
Medical experts from across the province have been allocated to Wuxi hospitals to treat the injured. Each patient will undergo a specific treatment plan created by the experts, according to the Health Commission of Wuxi.
(source:chinadaily.com)