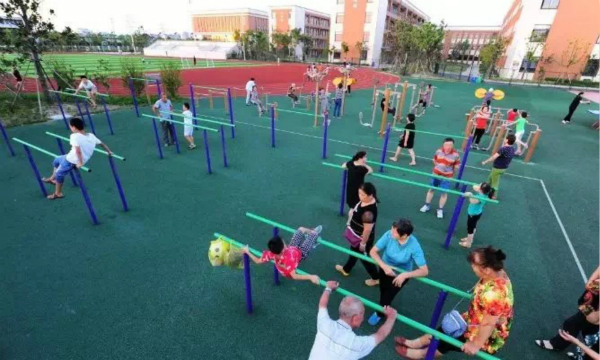 Locals work out in a playground in Taicang, Jiangsu province. [Photo/WeChat account: taicangdaily]
  Taicang in Jiangsu province is a county-level city whose residents are glad to participate in various sports activities ranging from daily workouts to international games, local media reported on Aug 21.
  Jogging, martial arts, folk dances, cycling, and skidding are among the top choices for locals who try to keep fit in the 1,527 playgrounds spread across the city.
  The sports instructor association of Taicang was established in 2010 and now boasts over 2,600 members who are fully committed to helping locals with their sports expertise and know-how.
  Every morning, a group of retirees and homemakers will practice tai chi at a playground west of Taicang Stadium on Shanghai Road. The city stadium can seat over 3,500 people and boasts advanced facilities that meet the standards of many international sports competitions.
  In 2018, Taicang earned the title of "Race Walking City" by the International Association of Athletics Federation (IAAF) for hosting the IAAF Race Walking Challenge, an anticipated annual event for race walkers from home and abroad, for eight consecutive years.
  Taicang hosts the 2019 IAAF Race Walking Challenge on May 11. [Photo/WeChat account: taicangdaily]