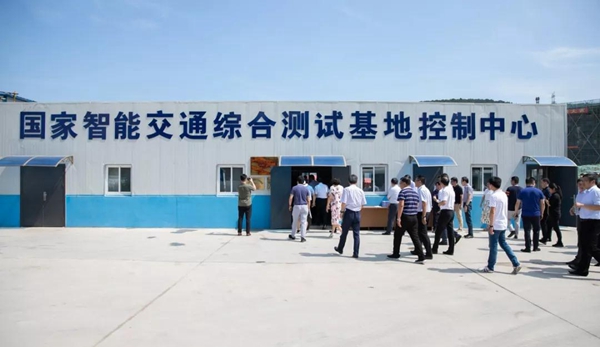 The national intelligent transportation test base offers testing services to companies that develop and produce autonomous vehicles. [Photo from Wechat account wxbhfb]
  New enterprises and projects with high investment and advanced technologies are set to boost the development of emerging industries in Binhu district, Wuxi.
  Emerging industries injected new energy into the economic development of Binhu. In the first half of the year, major emerging industries such as life health, integrated circuits and information security in the district introduced 126 new enterprises and achieved an operating income of 14.9 billion yuan ($2.1 million), a year-on-year increase of 16 percent.
  To learn more about major projects, a group of local government officials led by District Director Xu Feng paid a visit to related bases and enterprises on July 30.
  After the completion of the national intelligent transportation test base, it will provide testing services such as system testing, auto parts testing and vehicle testing for companies that develop and produce autonomous vehicles and help form a cluster of innovative enterprises related to the internet of vehicles. The first phase of the base was put into operation in September last year.
  Fresenius Kabi SSPC, a leading clinical nutrition company in China, has built its smart factory with an expected annual production capacity of 30 million bags of enteral nutrition emulsions.
  The company has focused on product development, technological innovation and academic promotion for many years, and the factory has been equipped with automated equipment for preparation, potting and sterilization.
  Technological innovation plays an important role in improving competitiveness and expanding markets, Xu concluded during his visit to tech firms in Binhu.
  With an emphasis on science and technology, Wuxi Huaxing East Electric Power Environmental Protection Technologies Co occupies 25 percent of the market share in domestic flue gas purification construction and has been recognized as an annual benchmarking enterprise of the China E20 Environmental Platform for three consecutive years.
  In just three years since its establishment, the per capita output value of information security company Jiangsu Xinzhi Information Technology Co exceeded 1 million yuan. R&D personnel in the company account for more than 80 percent of its total employees.
  Jiangsu Teliliang Coating Technology Co has set up a world-leading intelligent production line using industrial robots, a fully automatic robot assembly line, an automatic measuring system and other production equipment.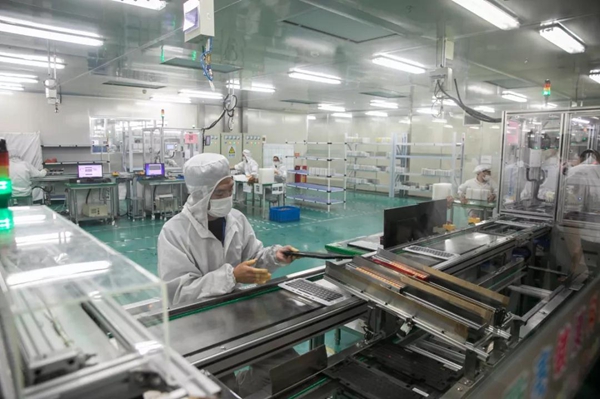 The factory of Jiangsu Teliliang Coating Technology Co is equipped with high-end equipment such as industrial robots and measuring systems. [Photo from Wechat account wxbhfb]
  (source:chinadaily.com.cn)