Wu Zhenglong, governor of Jiangsu, reiterated further efforts to improve workplace safety and prevent major accidents at a provincial teleconference on workplace safety held Wednesday in Nanjing.
At the teleconference, Wu warned of severe and complicated situation with regard to work safety, demanding local authorities to keep on high alert for safety hazards.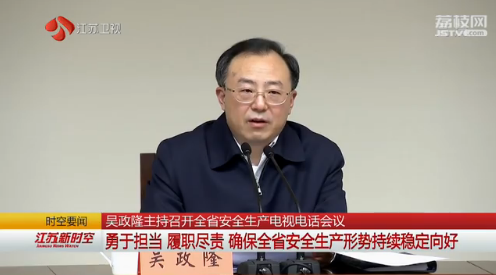 He urged the province to carry out inspections over workplace safety, with targeted crackdowns on coal, dangerous chemicals, transport and construction industries during the upcoming Spring Festival.
The Governor also demanded that a stricter responsibility mechanism should be put in place and related law-making be accelerated, to enhance response capability.
In an instruction to a national teleconference on production safety on Wednesday, Premier Li Keqiang stressed the key role of safe production in safeguarding economic and social development, and highlighted achievements made by local governments and related departments in the field in 2018.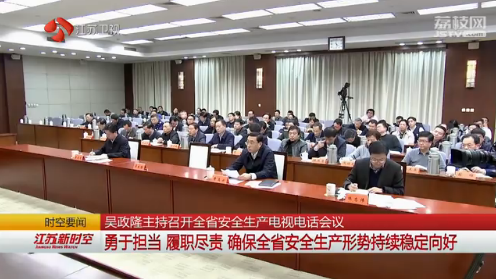 While extending his best regards to all the attendees, Premier Li said more work should be done in the new year, to focus on preventing major safety risks and accidents, optimize emergency responses and decision-making, rule out hazards in traffic, chemical industry and other key sectors through special campaigns.
Efforts should be made to root out hidden risks and raise preparedness against disasters, to protect people's life and property and economic growth, he added.
The responsibilities of enterprises and supervision of related departments in safe production were also urged in the instruction.
According to the meeting, production safety maintained a good trend in 2018, with reduced overall accidents and major accidents.
As risks are still challenging, local governments, departments, and units were urged to put all the reforms in practice, improve the emergency management and safe production system, and set up clear responsibilities that all related parties should implement, according to the meeting.
They were also required to control and manage major risks and hidden dangers, innovate supervision and law enforcement, enhance technology support, improve emergency rescue, and take strict precautions against serious and major accidents.
Efforts should be made to protect people's life and property and create a sound and safe environment for celebrating the 70th anniversary of the founding of the People's Republic of China.
(Source:ourjiangsu.com)