The patriotism and dedication demonstrated by Wang Jicai, a late militia sentry who spent 32 years guarding an island post, has been hailed by the Chinese people as he had resolutely stuck to his post without any complaint or regret, composing an extraordinary chapter in a life on an ordinary post.
  Few in 1986 wanted to take up the lonely job of guarding the remote and tiny Kaishan Island in the Yellow Sea off China's east coast.
  Before the offer came to Wang Jicai, four others did agree to do it but they only lasted about two weeks each. The conditions were harsh -- fierce winds battered the rocky island, there was no telephone line and supplies were delivered by boat.
  Mostly it was the loneliness: There was no one else on the island.
  Wang took up the offer. As it turned out, he lasted 32 years on the job until he died in July at 58.
  Standing guard with him – watching ships go by near Yanwei port at the junction of Japanese and South Korean international waters – was his wife, Wang Shihua.
  She quit her job as a primary school teacher to join him within months of his posting on the island.
  The couple's two children – their second child, a son, was delivered by Wang on the island – grew up with their grandparents.
  In July 1987, the second year of their garrison, Wang Jicai assisted his wife the delivery of their second child on the island under the instruction of the wife of the head of the militia department through a walkie-talkie as the typhoon cut off transportation between the island and the coast.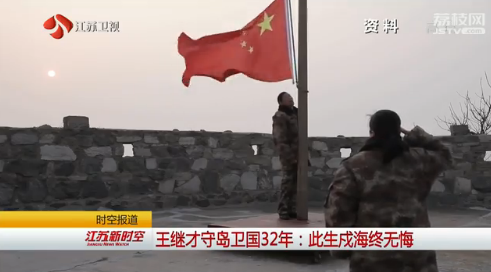 They named the child Zhiguo, which means determined to serve the country.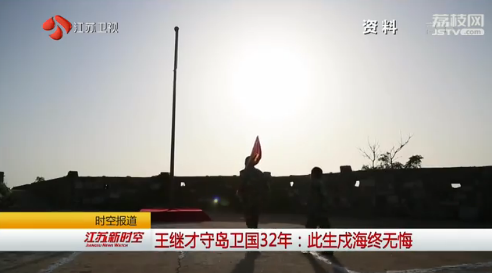 Part of the couple's job was to raise the Chinese flag on the island every day.
  Now, an education base that focuses on patriotism has been built on the island, and has already been visited by thousands of people.
  (source:ourjiangsu.com)