East China's Jiangsu province saw its January-July consumer price index, a main gauge of inflation, climb by 2% from the same period of last year, up 2.5% from July and lower than 2% for the third month, the provincial squad of the national statistics bureau said Thursday.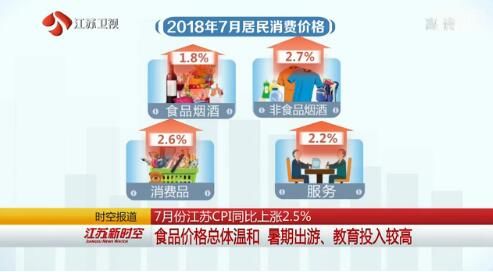 In July, the prices of eight categories of goods and services that constitute consumer prices rose year-on-year. Among them, the price of foodstuffs and tobacco increased by 1.8%, and the price of non-food tobacco and alcohol rose by 2.7%.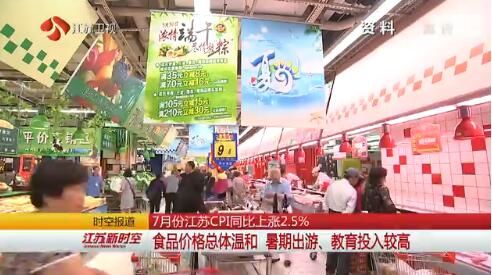 Non-food prices have risen rapidly and become the main driver of CPI growth.
  From the perspective of food and tobacco prices in July, egg prices were up 12.9% year-on-year. The prices of pork and aquatic products declined, falling by 7.5% and 3.6% respectively.
  In terms of non-food, tobacco and alcohol prices, traffic and communications prices rose the most, up by 4.1% year-on-year. Prices for clothing, housing, daily necessities and services have risen in different degrees.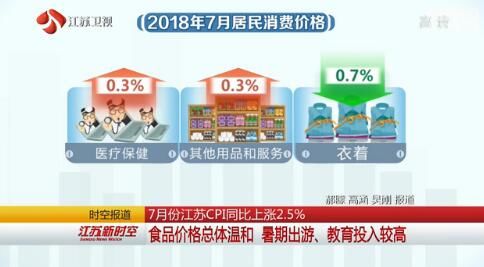 The data shows that the education, culture and entertainment rose by 1.4%, the highest increase. The price of pork was up 3.2% from June, implying a possible rebound in pork prices in the near future.
  China's consumer price index rose 2.1 percent year on year in July, compared with 1.9 percent for June.
  On a month-on-month basis, the CPI climbed 0.3 percent, according to the NBS data.
  Non-food prices pushed the inflation rate higher, increasing 2.4 percent year on year and 0.3 percent month-on-month.
  On a yearly basis, medical and health care prices ticked up 4.6 percent, transport and communications prices gained 3 percent, while costs of accommodation rose 2.4 percent. Educational, cultural and recreational prices increased 2.3 percent.
  Food prices went up 0.5 percent year on year and edged up 0.1 percent month on month.
  The price of pork, China's staple meat, continued to slump in July, down 9.6 percent year on year, dragging down CPI growth by 0.24 percentage point.
  China is aiming to keep annual CPI growth at around 3 percent this year, the same as the target for 2017.
  (Source:ourjiangsu.com)