Wu Lidi, a 48-year-old student dormitory cleaning lady who has a passion for painting, was recently surprised and deeply moved by a special exhibition of her painting works held by students at Nanjing University in Nanjing city, east China's Jiangsu Province.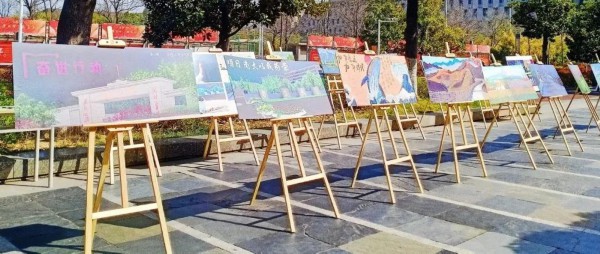 An exhibition of Wu Lidi's paintings held on the campus of Nanjing University.
The exhibition was named "A Cleaning Lady's Spring". The paintings were Wu's works on a blackboard hanging in the first floor of a student dormitory where she works. The paintings ranged from magnificent natural scenery and the colorful university campus to a gorgeous imaginary world.
During the exhibition, which was held in front of the entrance of a canteen in the university, many students left handwritten messages of appreciation, gratitude and best wishes to Wu. The messages included "Thank you for your blackboard paintings that have accompanied me through four years of my youth," "You have depicted a wonderful world with your painting brush," and "I hope you will stick to what you love."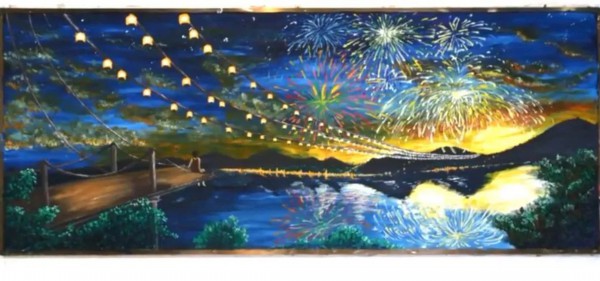 Photo shows a painting of Wu Lidi.
Wu has never received any professional training in painting. She has had a keen interest in painting since she was young, and often created blackboard newspapers for her class when she was a student.
After she became a cleaner at Nanjing University, her enthusiasm for painting was rekindled since she volunteered to enrich a blackboard newspaper with pictures. The blackboard only had a few characters reading "Welcome Home," because the student who was supposed to create the blackboard newspaper didn't return to school in time.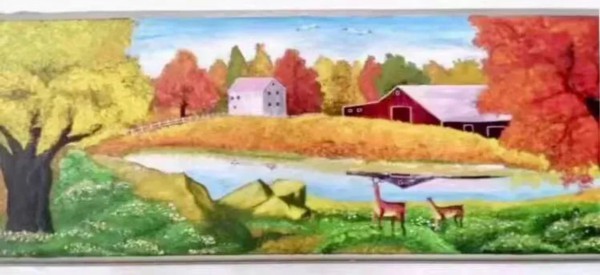 Photo shows a painting of Wu Lidi.
The attempt became the starting point of Wu's extraordinary journey of life in the university. She has since become increasingly devoted to painting on a blackboard, and learned and practiced painting skills with online resources in her spare time.
As the contents of her paintings changed from simple flowers and plants to complex landscapes, and her painting techniques changed from chalk drawings to watercolor paintings, her paintings became increasingly sophisticated and exquisite, and she became widely known by students of the university, who often refer to her as "a cleaning lady who could have become an artist."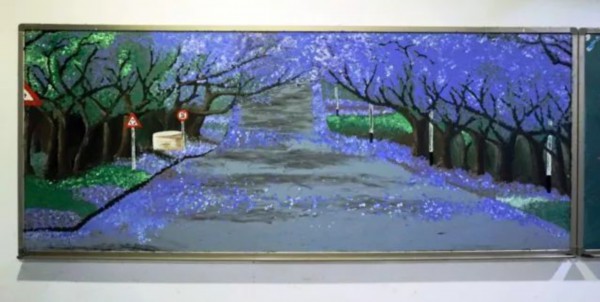 Photo shows a painting of Wu Lidi.
Wu is responsible for cleaning a whole building, and she usually can't finish a day's work before noon. She still tries to find time to create blackboard paintings.
"I take pleasure in painting, so I'm happy to do it," she said. The blackboard is on the first floor, so students can see it whenever they enter and exit the building, she added. "I want to give the students a different feeling, and hope they will feel happy when they see the paintings," Wu added.

Photo shows a painting of Wu Lidi.
Wu is grateful to the students who held the exhibition for her, and said that it is the encouragement from students that has kept her sticking to her hobby.
She will continue to create more paintings that will accompany every lovely student, Wu said.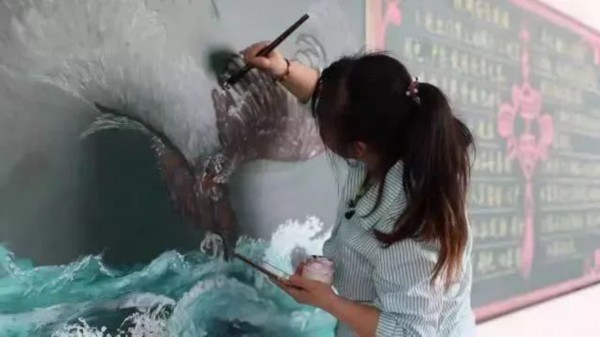 Wu Lidi paints on a blackboard.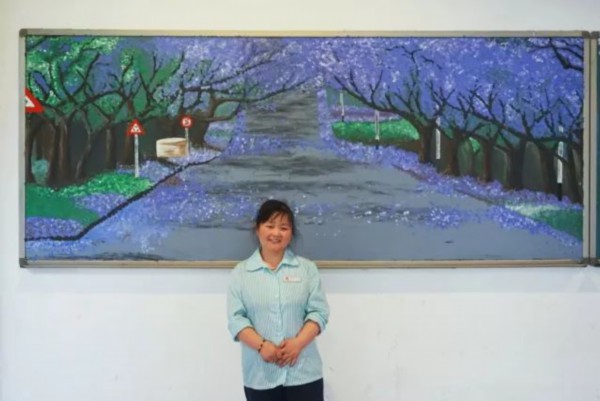 Photo shows Wu Lidi.
Photos from CCTV News, Nanjing University, Modern Express