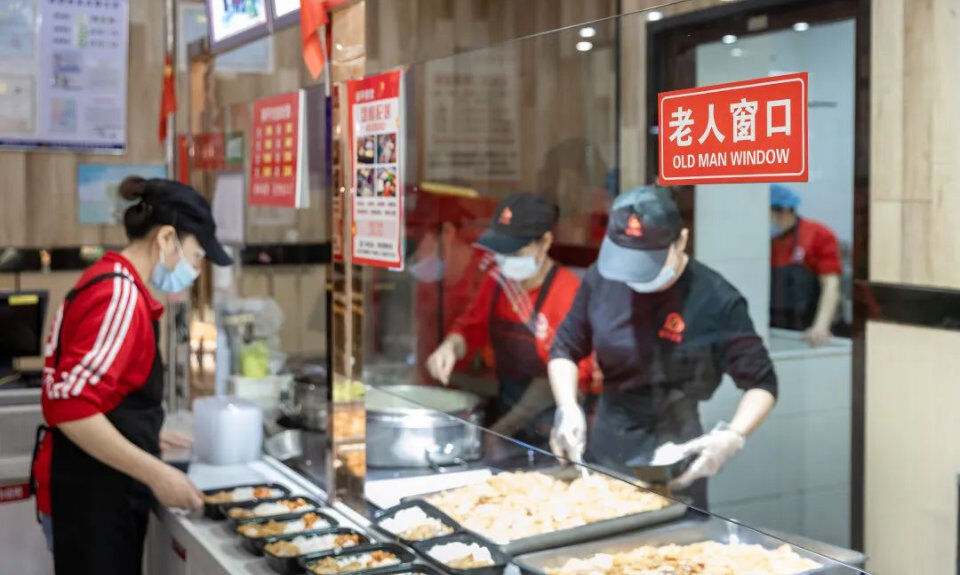 Image courtesy Nanjing PSA (南京发布)
Senior citizens in one part of Nanjing enjoying special meals provided by a local restaurant have provided the impetus for an enhanced government-run version of the service that encompasses the entire catering industry chain in care for the elderly.
It's approaching 11:00, lunchtime in China, and the door of Liping Restaurant seems inconspicuous. Located at 8 Huayuan Lu in Nanjing's Xuanwu District, Liping has for 7 years been serving up nutritious meals to local seniors.
That's all down to a good samaritan by the name of Zhou Liping. Back in 2015, Zhou, Liping's owner noticed that there were many elderly people in nearby communities.
Coming to eat in Zhou's restaurant, many would talk to her about the inconveniences of eating at home. Many had children who are far away and not able to help their parents in any way, while others found their three meals at home to be just so so.
For many seniors, the act of eating in itself is also problematic, and maintaining meals which are both healthy and tasty a tremendous challenge.
This worried the filial and kind Zhou. So she set up an elderly-care meal service operating out of her own restaurant. Now, for the past 7 years, Zhou and her team have been providing local seniors with delicious and nutritious dishes in a comfortable dining environment, accompanied by kind and warm service.
For them, Liping is not only a place to eat. It is also a place for old neighbours to talk and exchange feelings, reports Nanjing PSA (南京发布).
Comments given to reporters included, "I have been eating here for 6 years, rain or shine"; "Of course it's delicious. If it's not, can I come here every day?", and, "This is for the elderly. It solved our problem of eating".
Now, Zhou's increasingly well-known personal initiative has recently caught the attention of Xuanwu Lake Subdistrict, as part of Xuanwu's optimisation of its elderly care service system.
Zhou hence was soon working with the Subdistrict's staff, to coordinate purchase, cleaning, cooking, meal distribution and delivery for those who need it. Each part of the chain is considered; nutritionists are on hand to mix and match nutritious dishes, and consider seniors with special needs.
In the interim, Liping has also grown from its one location to now have four branches, spread far and wide across Xuanwu, with the others being in Xinjiekou and Xiaolingwei subdistricts.
Liping is now serving approximately 600 seniors every day. Over the course of 7 years of operation, it is estimated they have helped feed nearly one million of Nanjing's elderly.